Chemical nickel plating is an electroless process in which a low-phosphorus nickel coating is formed on the steel surface. The coating is characterized by high hardness and wear resistance and even edge and through-hole coverage.
The basic metallised material is steel.
Maximum product dimensions: 1450 x 1000 x 500 mm
Maximum part weight: 650 kg
Before this surface-treatment is important, that parts are very good prepared refering to instruction of incoming conditions for visual aperance and cleanliness. You can download the instruction here.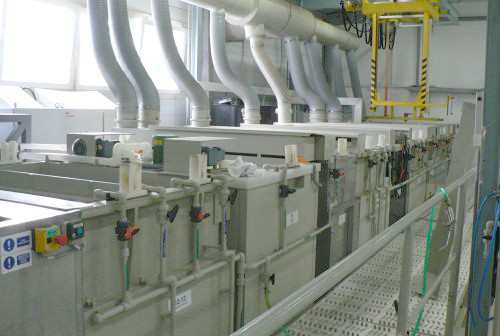 Technical specification
Phosphorus content in Ni layer
5 – 7%
Layer thickness
5 – 80 µm
Hardness after plating
600 – 700 HK100
Hardness after heat treatment
850 – 1000 HK100
Corrosion resistance
>96 hod 25 µm NSS test ASTM B117
Wear resistance after plating
14-18 TWI
Wear resistance after head treatment
8-12 TWI
Standards
ISO 4527
AMS 26074 (MIL-C-26074)
AMS 2405
ASTM B-733